Welcome to the Rochester Duplicate Bridge Club! We look forward to warmly welcoming you at the table (when we get back to the table, and that's coming soon!) - but at the moment, we're still 100% online. For a tutorial on how to play online, click here.

There's all kinds of information available to you by navigating on any of the links on the left side of this webpage; and if you would like more information, please feel free to contact our Club Manager, Sue Greenberg, at 507-365-8236. . .or send her an email at RDBCmanager@gmail.com.
---
Tra-la! It's May! That lovely month when everyone's bidding goes blissfully astray (or something like that) - Sue's latest newsletter has all kinds of information for you. Click here to check out the latest on the club and our players, including a recap of all the awards scooped up by RDBC players last month (and a new Silver Life Master is in our midst!). Plus a look ahead to our clubs's efforts for this year's Longest Day fundraiser for the Alzheimer's Association.

---
Two big monsterpoint milestones this week for RDBC players - Judy Hansen is our latest Sapphire Life Master, passing the 3,500 MP mark! Congratulations, Judy! Hopefully a celebratory better-late-than-never cake when we get back to in-person will be on the schedule.




Also this week: The countdown is underway! Genny Rice has earned:
4,997.80

Masterpoints that Genny needs to cross the 5,000 MP mark and become a Diamond Life Master:
2.20
---
It is not too early to make a tax-deductible donation supporting our Alzheimer's Association Fundraiser. The RDBC will have special games on The Longest Day (June 19th, see the schedule by clicking here), but you can make a donation now.

Click here to make a donation or click the Alzhemier's logo below. You'll be taken to the special RDBC donation page; our goal this year is to raise $3,000, but nobody will mind if we exceed that by a little or a lot.

Playing bridge and keeping your mind active is a great way to stave off Alzheimer's; so is the funding that is needed to ultimately find a cure. We'll see you online June 19th!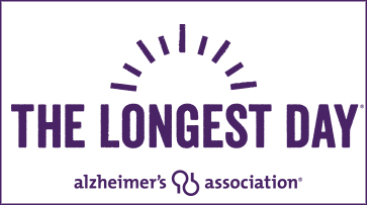 ---
For the first time in 20 years, a major overhaul of the ACBL Convention Card has taken place. Click here to see the changes!


---