Bigger Things

Tournaments + ACBL Administration
BRIDGE TOURNAMENTS
Currently scheduled upcoming bridge tournaments (click on the flyer to enlarge it):

Rochester NLM Sect'l
August 20
Rochester Fall Sectional
October 6-8
Rochester NLM Sect'l
December 1
Rochester NLM Sect'l
March 11
Rochester Spring Sect'l
April 13-15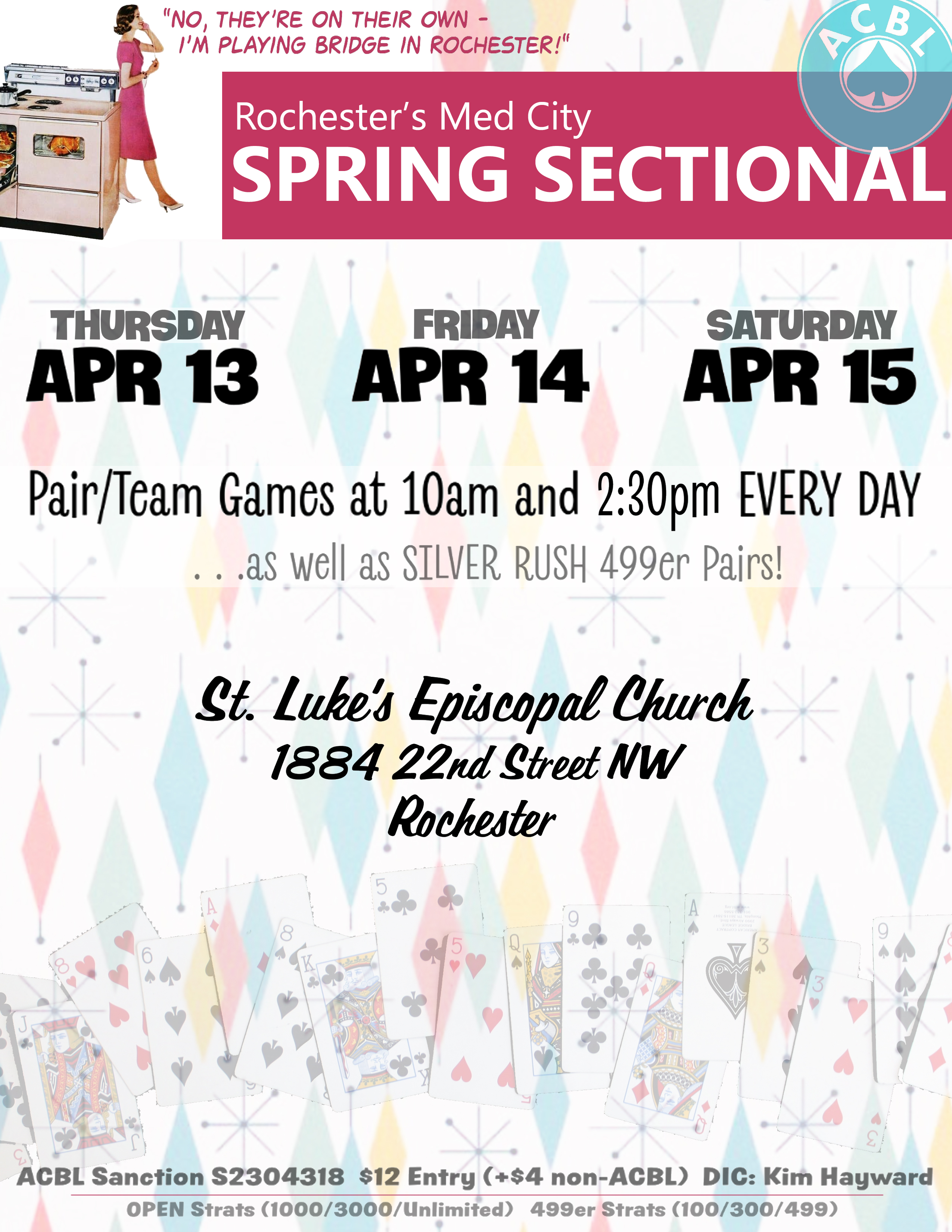 ---
UNIT 103

Unit 103 is the governing body that includes most of the State of Minnesota, including the Rochester Duplicate Bridge Club. Click here to access the Minnesota Bridge Blog, which is all things Unit 103 (including their administration information and where to find the websites for other local Minnesota bridge clubs).
---
DISTRICT 14

The District 14 is the ACBL's geographic area that contains Unit 103. D14 also includes North and South Dakota, Iowa, and Nebraska. The District 14 website can be accessed by clicking here. Their website includes Masterpoint winners, larger tournament information, D14 administration, and more.
---
REGION 5

In 2021, the ACBL began the move to consolidate ACBL Districts in to ACBL Regions. Our club is in District 14, and our district along with D12 and D13 will compose the new ACBL Region 5.
---
AMERICAN CONTRACT BRIDGE LEAGUE

The ACBL is the governing body of Duplicate Bridge in the United States, and you can access their website by clicking here. All of the RDBC games that we play are sanctioned by the ACBL, and periodically we will run Charity Games to benefit both local charities (as determined by the RDBC Board) and national charities (as set forth by the ACBL).

ACBL Live 4 Clubs is another way to check scores of games held by the RDBC - and all ACBL clubs across the country. You can access Live 4 Clubs by clicking here.