Welcome to the Rochester Duplicate Bridge Club! We have been (impatiently) waiting to warmly welcome you at the table for months, and the wait is over. The RDBC will be holding in-person bridge games starting on July 12th, at St. Luke's Episcopal Church. (For location and game details, click here.) We will continue to hold online games during the week (see the schedule by clicking here), but now get ready to actually see your partner roll their eyes at your pass card. It's about time!


---
NEEDED TO PLAY
FOR FACE TO FACE:


Dear fellow bridge players,

On July 12th, the RDBC will begin in-person games at St. Luke's.

At the June 9th board meeting, the Board reaffirmed their commitment to make our in person games, classes, Chat Bridge, and social gatherings safe for all. To that end, the first time you attend a Rochester Duplicate Bridge Club function, you will need to provide proof of vaccination. Acceptable forms would be a CDC card, a printout or card of your immunization record from your medical provider, a copy of proof of immunization on your phone or tablet, or other documentation that shows your name and date of vaccination. A member of the board will be keeping a master list, so you will only need to provide your data the first time you attend a game or other function.

If you need help getting proof of vaccination, especially from Mayo Clinic, several of our board members have successfully obtained written documentation and would be happy to advise you in the process.

We all look forward to our competitive games and fun times; this is a step that will provide peace of mind for all those that wish to attend RDBC functions.

Sincerely,
Sue Greenberg, Club Manager
on behalf of the RDBC Board
---
Red Point games have come to the RDBC! This year's North American Pairs competition has begun online, with 12 online games this month that will all pay DOUBLE masterpoints that are 1/2 red and 1/2 black. This is the one time of the year you want your partner to see red. Then in July, when the RDBC goes back face-to-face, we will have some NAP qualifying games in person. Check the schedule for all the games; get your partners lined up; and score some MEGA-masterpoint RED point games the next two months!
---
It is time to consider making a tax-deductible donation supporting our Alzheimer's Association Fundraiser. The RDBC will have extra games on The Longest Day (June 19th, see the schedule by clicking here), to help raise funds for this very worthy cause.

Click here to make a donation or click the Alzhemier's logo below. You'll be taken to the special RDBC donation page; our goal this year is to raise $3,000, but nobody will mind if we exceed that by a little or a lot.

Playing bridge and keeping your mind active is a great way to stave off Alzheimer's; so is the funding that is needed to ultimately find a cure. We'll see you online June 19th!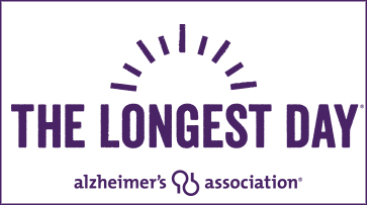 ---
For the first time in 20 years, a major overhaul of the ACBL Convention Card has taken place. Click here to see the changes!